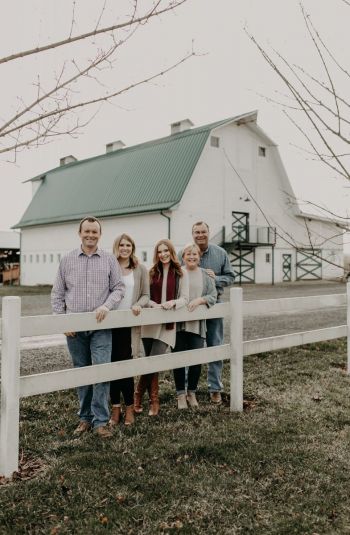 Meet the Heiser Family!
John and Kristi Heiser moved to Grand Island in the fall of 1991, realizing their dream to live on a farm and bring their children, Henry and Madeline, up in a rural setting. After remodeling their 1930's era red barn, John and Kristi saw it as a center for social gatherings, and plans evolved for a pumpkin patch. In October 1994, the Heisers opened their farm to school visitors and weekend outings. With the popularity of the pumpkin patch increasing and the need for more area to expand, an opportunity arose in 2008 to purchase a nearby farm. After renovating much of this farm, including the historic white barn, the pumpkin patch had a new location in 2010.
Shortly after renovations were complete, a family friend asked if they could have their wedding here. Simple as that, Kristi started hosting weddings at Heiser Farms in 2011! In 2015, Henry and his wife, Lindsay, were married at the farm. The following year, Henry and Lindsay took over the wedding venue portion of Heiser Farms. They look forward to meeting newly engaged couples and walking them through planning their wedding at Heiser Farms.