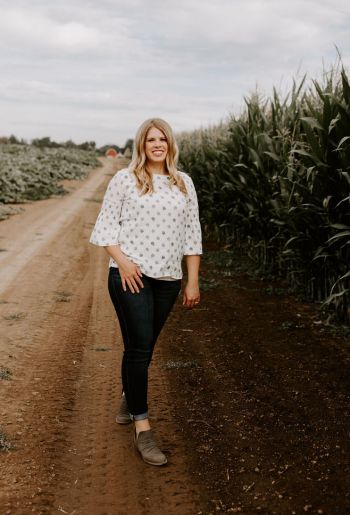 Meet Lindsay!
Meet Lindsay
Hi there! I'm Lindsay - the girl behind Heiser Farms Weddings. Henry, and I were married at Heiser Farms on September 12, 2015. Shortly after, we moved to the farm on Grand Island and took over the wedding venue. So Henry is another face behind Heiser Farms Weddings - but he'd rather work behind the scenes!
I am a total planner, organizer, and realist. Weekdays are spent working in town where I work for an agricultural financial services cooperative. I get the best of both worlds having a career I love and a side hustle being creative.
I love working with couples and encouraging them to make their wedding about THEM. I truly believe a wedding should be a reflection of the bride and groom; not what anyone else wants or thinks you should do. The best part of running a wedding venue?! Watching two people get married surrounded by beautiful farm scenery, spending the weekend celebrating their marriage, and relaxing with close friends and family. Meeting and working with so many great wedding vendors isn't so bad either ;)
Aside from work, you can catch me enjoying lazy Sunday mornings, adventuring somewhere new, or relaxing in Pacific City. If you're dying to know more (and may I just say this is so awkward writing about yourself!), here's five things you might not know about me.
I hate coffee. The smell, the taste, everything! I've never been one to need caffeine in the morning to wake up. I'll be sipping on tea, La Croix, and go old H2O.
I love sugar. I'm probably this biggest sweet tooth you'll ever meet. I prefer fruity candy but I won't turn down chocolate orrr really any dessert as long as it doesn't have coconut or pineapple.
I'm always joking around. I believe if you haven't had a good belly laugh in a while, you're doing something wrong. Henry and I are constantly joking around.
Pacific City is my favorite place. Maybe I shouldn't tell you that because more and more people are finding out about that little gem of a place. But it's where Henry and I were engaged, where we go to get away, and it also works out that Henry can fish and crab there.
Planning, organizing, and analyzing is what I do - its fun for me. It makes me so sad when brides don't enjoy planning their wedding. I just want to swoop in and plan it all for them so they can be focused on what's important - marrying your love.
So that's me! Well, sort of. As much as I want to fit on this little internet screen. Thanks for stopping by!
How It All Started -
My lovely in-laws, John and Kristi, moved to Grand Island in the fall of 1991 when Henry was just a baby. They had a dream to own a farm and bring Henry and his little sister, Maddie, up in a rural setting.
After remodeling their 1930's era red barn, they saw it as a center for gatherings and opened their pumpkin patch in October 1994. Popularity grew and they needed more area to expand so John and Kristi purchased a neighboring farm in 2008. After renovating much of this farm, including the white barn, the pumpkin patch moved to its new location in 2010.
Shortly after renovations were complete, a family friend asked if they could have their wedding at the farm. Simple as that, Kristi started hosting weddings at Heiser Farms in 2011!
Not long after Henry and I were married at the farm, we took over the wedding venue portion of Heiser Farms. We hope to continue improving the farm and it's traditions for many years to come.
Thanks for stopping by to learn more about us at Heiser Farms.
Still there? Phew… thanks for sticking with me! OK let's connect! You can follow along on Instagram or we can continue the conversation by filling out the contact form.