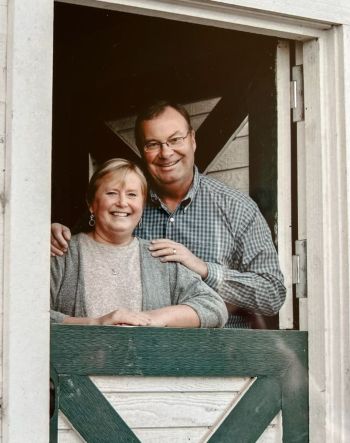 About Us
John and Kristi Heiser moved to Grand Island in the fall of 1991, realizing their dream to live on a farm and bring their children, Henry and Madeline, up in a rural setting. In addition to raising strawberries and melons, they began growing pumpkins for markets in the local area.
After remodeling their 1930's era red barn, John and Kristi saw it as a center for social gatherings, and plans evolved for a pumpkin patch. In October 1994, the Heisers opened their farm to school visitors and weekend outings. With the popularity of the pumpkin patch increasing and the need for more area to expand, an opportunity arose in 2008 to purchase a nearby farm and plans were set in motion to renovate much of the farm for its grand opening in 2010. With its fully restored barn and corn dryer building, which contains a full commercial kitchen, the farm can accommodate most any social event and the many buildings provide cover during the inclement October weather.
Families have the opportunity at the Heiser Farm to relax and enjoy a wonderful autumn day wandering about a field of bright orange pumpkins.
"It has been a delightful experience to see children having such fun finding that 'perfect pumpkin'. We hope you can join us as we strive to make this a memorable experience for your entire family."